The ACRE Project (Active Communities Restoring the Earth) is an initiative of Dialogue For Diversity. Set up in 2020 to encourage and support local groups to restore the earth, it is a response to the urgent need for visible, ground level action around the the climate emergency. The Project reflects our individual and collective responsibility to care for the earth, our common home, which Pope Francis highlighted in his 2015 document, Laudato Si'.
Seed funding for the project was obtained from the Irish Jesuits.
---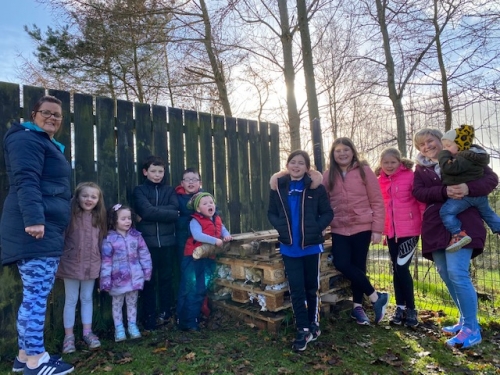 The Start of the new Bug Hotel in Mullacreevie Park, Armagh, 21 November 2020
---
Our Vision is: To explore and implement projects which promote integral ecology by empowering local communities to restore their own environment. We aim to do this by:
Reducing carbon
Increasing biodiversity
Empowering local communities to engage in ecological and justice issues
Contributing to social justice and inclusion
The ACRE Project works out of the values and vision of Pope Francis' encyclical Laudato Si'. This document can appeal to secularists because it spells out what it is to be human, and also to people of faith because it shows how God is embodied in our broken world.
We believe that people in marginalised communities experience most acutely the effects of the brutal destruction of our planet which has been taking place for decades. But we also believe that these same communities have the power to address this disaster and to nurture renewed growth and life, protecting our planet for future generations.
Working alongside these groups we will seek to engage with political parties, business, and churches to adapt and reframe the way we live, so that we can exist in harmony with the earth and its resources, rather than exploiting and consuming them.
We recognise the urgency of this task. In the past, calls for changes to the way we care for our environment have been based on computer models, which suggested the damage done was not yet critical. We can all see from melting ice caps, from horrific fires in Australia and the US, and from many other climate disasters, that we are now running out of time fast.
In our work we will focus on realistic, visible projects that lie within the power of local groups. We believe that focussing on projects that are visible, with tangible benefits in reducing harmful emissions, will provide the hope that we all need. Urgent as the task is, if we respond now we can save the planet.
Central to our work will be a process of dialogue in which we focus on a core question: what is it that really matters to you as an individual? We believe delving deep into this question can help us all to reconnect people to our deepest values.
Completion of the process is represented by a group or community initiating and undertaking a practical activity or project. Key to this is agreement among the participants regarding the nature and purpose of the activity. Groups/communities will be facilitated/supported to assume ownership of and responsibility for their activities.
Outreach/Engagement:
Depending on our resources, ACRE Project will work with any local group struggling with climate issues, and encourage other groups to get involved. We will help existing groups in any way we can.
As a project of Dialogue For Diversity, links already exist with other DFD projects working in migrant support, dialogue on contentious issues, and support for prisoners.